Memorial Day 2021 is fast approaching and we normally have a memorial party.  However, this year we decided to hold off on the party until July 3rd.  Several factors played into this decision, the most impactful is the suicide rate amongst our Veterans.  With the amount of military members, veterans and their families in distress, it is not appropriate to have the event at this time. 
Memorial day is a day to remember the soldiers that died fighting for our country.  Some may say that those that leave the military and then die after are not the same as those who died in combat.  I am here to tell you that is WRONG, on so many levels.  First of all soldiers never leave the military, it will forever be a part of us.  Second, suicide is a battle in the brain and who are we to say what caused it?  Was it the war?  Was it sexual trauma from childhood?  We are not the judge of this.  So here at Elev8 Veterans, we honor ALL who have died while honorably serving our country, because a soldier is always serving even after discharge. 
Elev8 Veterans was founded on May 27, 2019, and this is our 2nd year anniversary.  We were faced with a pandemic that crippled businesses and organizations and that was scary.  We made it.  Thank you to our glass blowers, Veterans, and supporters for all you have done to help us get this far.  Together we are stronger and can make it through.  There were a lot of changes and pivots made during the last two years but things have never been better.  We never stopped attending events in order to spread awareness, and in the process connected with some amazing people that have our best interests at heart. 
During the past 24 months, Elev8 Veterans has been to over 6 industry trade shows, 27 states and was involved in over 50 events nationwide.  In fact, we even had a small chapter in Kuwait for a while, so you could say we are worldwide.  Together we have partnered with over 40 Influencers, 100's of glassblowers, numerous other Veteran organizations, and several other nonprofit organizations.  We have been invited to over 1500 retail locations and more are signing up as we type.  The key to everything is awareness. 

Awareness not only for the Veterans that served, but for the current soldiers and those that never made it home yet.  Awareness also for suicide and opioid dependency.  We say dependency because we/they never intended to be addicts. The opioid crisis amongst our country is devastating.  Trying to save everyone is heartbreaking, impossible, and tiring, so we have chosen the Military as our focus.  If you or someone you know is in need of help or counseling for opioids please reach out to your local opioid crisis line. Here are a few numbers to help those in need of assistance.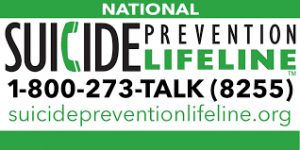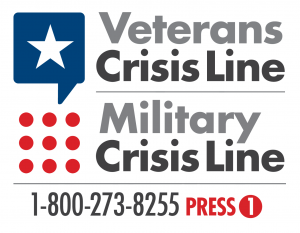 White House VA Hotline: 1-855-948-2311. Calls are answered by a live agent 24 hours a day, seven days a week, 365 days a year. The hotline is staffed by more than 60 agents who have had extensive training on VA programs and services.
Together we can make a change.  Elev8 Veterans is just a small drop in the bucket compared to where the world needs us.  However, we will never give up on you or educating the world on healthy alternatives to opioids, suicide, cancer, mental illness, and pain, to name a few. Thank you from our hearts to yours. Choose Love, Choose Life
If you want to help us, you can give it directly to us or you can treat yourself with any one of our packages below.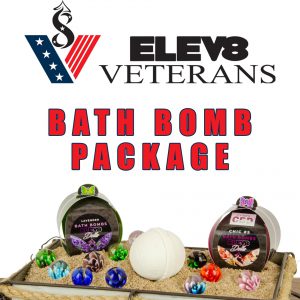 50% of the purchase price for the bath bomb package goes to Elev8 Veterans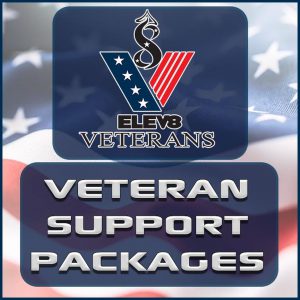 Click for a win win win package!